Browse by Date
Events From 2023-07-31 to 2023-08-06
go to the full list of events
Tuesday, August 1, 6:00 pm
Join leader Roger Beatty (OARS Board of Directors member) for a paddle on the beautiful Sudbury River. It's the perfect way to celebrate our rivers, and enjoy the wildlife that come out just before sunset, on this first full moon of August. The Wayland paddle is about 5 miles round trip. Bring your own canoe/kayak and life jacket (required). Pre-registration is required. Limited spaces will be available for those who don't own boats on a first com first served basis.

Add to Calendar
08/01/2023 06:00 PM
08/01/2023 08:00 PM
America/New_York
Sturgeon Full Moon Paddle
Sudbury River, Wayland
SuAsCo River Stewardship Council
false
Location: Sherman's Bridge landing, Wayland
Saturday, August 5, 9:15 am
Join Nashoba Valley Pedaler leaders, Mike Duclos and Allan Fierce, for a ~30-mile ride, (expect 3+ hours, including a stop for ice cream at Erickson's in Maynard!) on roads crisscrossing the Sudbury, Assabet and Concord Rivers. This is a 'no drop' ride, meaning there are designated lead rider and sweep riders, other riders will be between them, and we will stop periodically to regroup. The route may change, but for those curious, it should be close to this: https://ridewithgps.com/routes.
Helmets required. Ride departs promptly at 9:30 from the Robbins House parking lot on Monument St. A forecast of steady rain will move the ride to Sunday. Call before 8am Saturday if in doubt.

Email or call 978-793-3189 for more information. Pre-registration via email is appreciated but not required.

Add to Calendar
08/05/2023 09:15 AM
08/05/2023 12:45 PM
America/New_York
Ride For The Rivers
Robbins House, concord, ma
SuAsCo River Stewardship Council
false
Location: Old Manse/Robbins House, Concord
Saturday, August 5, 10:00 am
Come to the riverbank by foot, or paddle, bring a picnic, and enjoy a day of entertainment at the historic Old Manse at 269 Monument St. Rain or shine.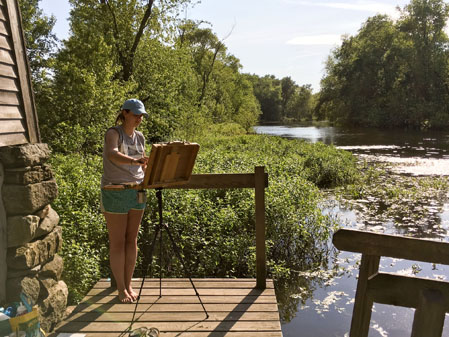 Saturday, August 5, 10:00 am
Join or watch talented artists as they paint "En Plein Air" (French for painting outdoors) on the grounds of the Old Manse. Learn how painters ply their craft, ask questions and revel in the magic. For more information, contact .
Saturday, August 5, 10:00 am
Join instructor Ashley Nichols for a gentle hour of relaxing yoga on the lawn of the Old Manse with views of the river. This class is welcome to all ages and levels. Please bring your own mat or towel to use along with water and any other props you wish to use. No pre-sign up required so please just show up as you are. Namaste.5
The Trustees
Saturday, August 5, 10:30 am
An elementary school class goes to a butterfly sanctuary and learns about these beautiful pollinators. After the storytime, you will make butterflies out of recycled materials.
Saturday, August 5, 11:00 am
Meet a Park Ranger at the benches by the North Bridge for this 30 minute program. Learn about the momentous battle at Concord's North Bridge, where the British Army suffered its first casualties of the war, and the legacy of this event in American History.
Saturday, August 5, 11:30 am
Create your own turtle, make a colorful journal, and more environmentally friendly art projects.
Saturday, August 5, 12:30 pm
Native Americans and early settlers used the rivers, in 1775 the American Revolution began along our rivers, and famous authors were inspired to write about our rivers. Join us for a storytime and activity.

This is one of our Junior River Ranger programs, designed for children 6-12. Explore and learn about our rivers with us or on your own and complete the Junior River Ranger Booklet to earn a Junior River Rangers badge and certificate.

Saturday, August 5, 1:45 pm
Encore Dance Ensemble returns to perform original works demonstrating life-long learning and personal fulfillment through the art of dance. The Riverfest performance includes the following themes: life milestones, love. Joy, and appreciation of the natural world.
Saturday, August 5, 3:00 pm
Ron McAdow's readings and commentary will show why "Literature" is considered one of the unique properties of the Sudbury, Assabet, and Concord Rivers. Henry Thoreau's writing is foremost, but Emerson, Hawthorne, and lesser known authors have embedded our rivers in America's literary culture.
Ron authored guidebooks to principal rivers in eastern Massachusetts. The Concord, Sudbury, and Assabet Rivers was published in 1990. His recent books are guides: Imagining the Past at Mount Misery and Concord Village. His unique edition of Ralph Waldo Emerson's Nature was released in the fall of 2022.
In addition to being a author of books and guides, filmmaker, and educator, Ron served for ten years as Executive Director of Sudbury Valley Trustees, a regional conservation non-profit.
Saturday, August 5, 4:00 pm
Join Margie Coffin Brown for a guided walk through the Buttrick Gardens. Initially constructed in 1910 by the Buttrick family and conveyed to the National Park Service in the 1960s, the historic gardens and adjacent meadows contain an array of mid-summer pollinator plants. Learn more about plant characteristics and appeal to bees, butterflies, birds, and other species. Bring binoculars and we will have some to share. For more information, call 617 620 2942. Meet in front of the North Bridge Visitor Center (174 Liberty St.)
Add to Calendar
08/05/2023 10:00 AM
08/05/2023 05:00 PM
America/New_York
Stories, Dance, Art, and History at the Old Manse
The Old Manse, 269 Monument Street, Concord
SuAsCo River Stewardship Council
false
Location: Old Manse, Concord
Sunday, August 6, 2:30 pm
Registration is closed.


Join Art for All to decorate your bike with a river theme, then ride along the Bruce Freeman Rail Trail in W. Concord with a short stop to learn about the wetlands and look for wildlife.

Intended for children 6-10. Helmets required.

Add to Calendar
08/06/2023 02:30 PM
08/06/2023 04:30 PM
America/New_York
Kids Bike For The Rivers
West Concord
SuAsCo River Stewardship Council
false
Location: West Concord
Come, connect, and experience your local Wild and Scenic Rivers! A RiverFest Summer!
Enjoy free hikes, paddles, walks, music, and family fun all summer long in this annual celebration of the Sudbury, Assabet, and Concord Wild and Scenic River. Explore all the rivers have to offer, just west of Boston!
Event Categories
Be a Junior River Ranger this Summer!
Through hands-on activities, learn how special our Wild & Scenic Rivers are and how you can help protect them. Join one, or all, of our fun hands-on Junior River Ranger events, listed with a river ranger badge, to receive a River Rangers booklet. Complete the booklet with us or through your own explorations to earn a Junior River Ranger badge and certificate. If you can't join us, email or call 617-981-2116 to have your free booklet mailed to you. Or download a pdf version of the booklet from the link below. Designed for kids 6-12.